Whilst Premier Ship Models specialise in the area of ship building and selling, we do offer restoration, and we are as passionate about restoring ship models as we are about quality model building itself. We take great pride in restoring model ships and boats to their former glory. During the restoration process, we retain as much of the original model as possible and maintain the techniques used by the original builder. We strive to never compromise the initial model in any way that interferes with the customer's expectations.
Proper care and systemic conservation of model ships ensures their longevity and preserves the buyer's investment. At Premier Ship Models, we offer model ship restoration services to bring model ships that have been damaged or have degraded over time back to their former glory. Being well-renowned for building and restoring ship models that are on display in marine museums, offices, boat clubs, and private collections around the world reflects our incredible work ethic and standard. The oldest model we have restored dates back to over 400 years old, and the degree of precision and care that goes into that sort of project cannot be understated.
We believe marine models, much like other objects of art, should last indefinitely. Exposure to sunlight, severe temperatures, humidity, and dust, as well as improper handling can lead to lasting damage. The model yacht repair service we offer allows the ship to restore its beauty and integrity without relinquishing any of its unique originality. The restoration team use extreme care and attention to detail to repair and replenish all degraded or damaged components, so the model will essentially look brand new.
In the last few months, we have completed five individual restoration projects. One of these was a HMS Victory, a 104-gun first-rate ship of the line of the Royal Navy. The ship itself is perhaps best-known for its role as Lord Nelson's flagship at the Battle of Trafalgar on the 21st October 1805.
The model came to us in need of re-rigging, as well as cleaning. The condition itself was far from terrible, as everything was intact, with the cannons lined up perfectly and the sails plunging out, adding to the sense of realism. Therefore, restoration was relatively simple, as it just required some careful cleaning, polishing, and attention to the sails.
Another restoration project we undertook for a customer was for their model of a Brigantine Leon. The damage on this was a little more extensive, as many small pieces had become detached or had fallen off altogether, and so lots of glue-work had to be done. Furthermore, the rigging was in need of straightening, and the bowsprit was completely broken, which of course had to be repaired.
The intricacies of this ship required a little more care and delicacy, as certain parts were significantly smaller. However, the restoration was soon complete with no issues, and the Brigantine Leon looked brand new.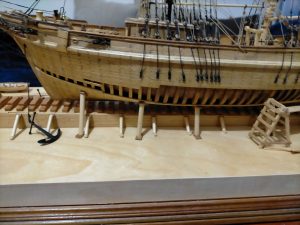 See Above - Brigantine Leon
The next project we undertook was a small ship; a Beetle Catboat mounted on top of a wooden plinth. It was in need of cleaning, as well as adding a rudder to the hull. Furthermore, there was a detached piece of wood which needed to be reattached, and the base had become loose over time. These were supported with the use of pins. The work was relatively straightforward and the Catboat was repaired in no time.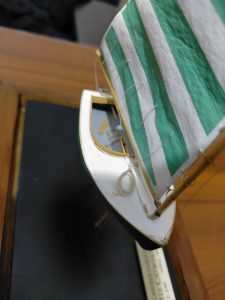 See Above - Beetle Catboat
Next was a restoration request for a CK 171 sailing boat. Not much repair work was needed, the customer simply wanted the existing lettering removed, and subsequently replaced with the same lettering painted white on a black oblong background.
The work was carried out without a hitch, and the customer's request was fulfilled within the allotted time.
Most recently, we worked on restoring a Pond Yacht. The model was in need of cleaning, however, the customer wanted the model to still look old, and so no brass was removed or cleaned to retain the ship's authenticity and austerity. It was also in need of new rigging and new sails, as well as attaching a mast to the desk, and repair work needed to be done on the mast and boom.
All of this was carried out with the utmost care and attention, ensuring the repair went as smoothly as possible.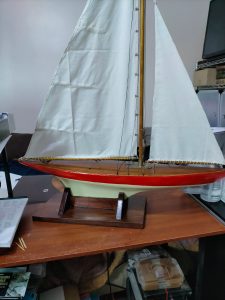 See Above - Pond Yacht Model
Overall, each and every restoration project is carried out with the highest level of care and precision, ensuring the customer's satisfaction, as well as our own. We pride ourselves in the quality of our work, and the restoration branch of the business is no different. As previously stated, ship models are a form of art and should live on indefinitely. We want to retain the authenticity and encapsulate the legacy of these brilliant ships, not only in restoration, but also with the models we offer ourselves.