Trafalgar Square was awash with a sea of green on Sunday as a pool of revelers eagerly made their way to its centre for St Patrick's Day. With the iconic view of London's Big Ben in their eyes and the welcome tones of Irish music in their ears, even the cold, rainy weather couldn't dampen their spirits.
Moving away briefly from the scenes of joy and laughter, Premier Ship Model's spotted the newest addition to Trafalgar Square's famous fourth plinth. Commonly known for its display of art from London, this plinth holds a special place in our hearts as it was previously home to one of our most special projects; the HMS Victory Ship in a Bottle.
New Plinth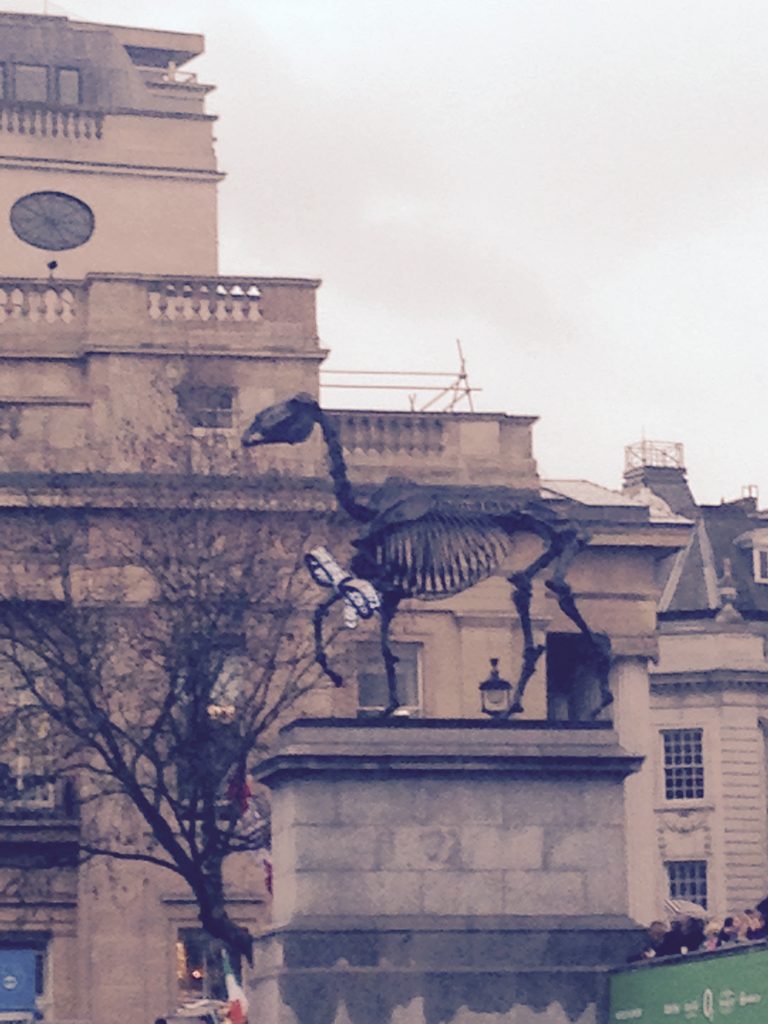 The latest addition to Trafalgar Square's scenery comes in the form of a very interesting piece of art; a skeletal bronze horse wearing a ribbon that displays a stock market ticker. The artist behind this fine piece of work, Hans Haacke, did not wish to divulge the full meaning behind it; however he has developed a reputation for producing a lifetime of artwork dedicated to proposing a link between art, money and power. He believes that inequality is one of the major issues of our time.
The equestrian piece is made with bronze and is scaled to twice lifesize (in keeping with the statue of King George IV). It was inspired by the work of artist George Stubbs, who frequently painted the English gentry with their horses.
Although the meaning behind the piece has not been fully revealed, the artist notes that the ribbon symbolises the horse being given as a gift, which is not in keeping with its skeletal appearance. Hans Haacke believes that in 2015 politicians around the world often do not act with the best interests of the electorate at heart; so perhaps this is what he was alluding to.
Nicholas Serota, Tate gallery director, disagrees, stating that; 'It's clearly about the fragility of power systems and the state'.
As with all artwork, the interpretation of the subject is entirely subjective to whoever views it; so what do you think this piece of art means?
Journey back
Seeing the new plinth on Sunday reminded us of one of the most special memories we have. Perhaps a crowning moment in our career as model builders was seeing the rise of our HMS Victory Ship in a Bottle custom built model ship on to the top of Trafalgar Square's fourth plinth.
The model ship was more than 3 metres long, 3 metres high and is classified as the biggest model placed in a bottle. It is currently on display at the National Maritime Museum and is a reminder to ourselves that we have truly cemented our position as fine quality, reliable and professional model ship makers.
If you would like to learn more about the HMS Victory Ship in a Bottle then please click here.
Please show your support for us and scratch build model making by sharing this article with your friends.
Get involved with the story of Premier Ship Models and follow our journey on social media by clicking the links below.